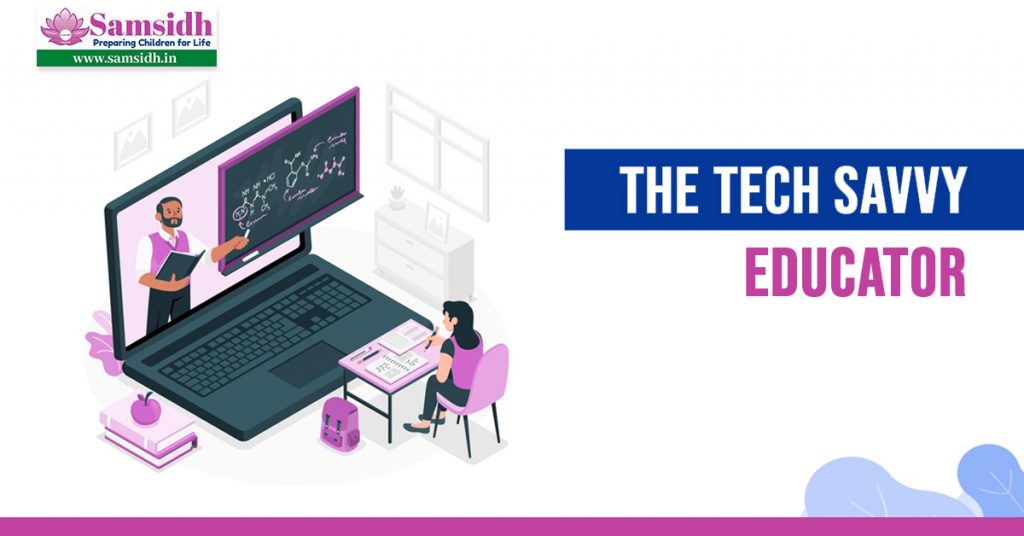 Technology is no more a luxury. It has almost become a basic necessity to possess. Right from the time we arise at dawn to the time we rest for the day, the number of gadgets that we use or the number of times we encounter technology has almost become countless and part of our unconscious experience. It is therefore not a wonder that it has encapsulated the education sector as well. Gone are the days when a teacher would walk into a classroom with probably a book, chalk and a small aid in hand, perhaps to discipline the class. Instead, an educator must be equipped to utilize basic, if not advanced, technologies. As we see, schooling today is online learning. 
Today, the world is discussing emerging technologies such as Big Data or Data Analytics, Machine Learning, Artificial Intelligence, Simulation/Virtual Reality, Cloud Computing, and much more. EdTechs or education technology start-ups/companies are mushrooming by the day in the silicon capital of India. From the utilization of a smartboard, we have today moved to use mobile phones, tablets and smartphones to more individual-based and personalized learning at self-paced learning through online classes. 
Teaching in a classroom to teaching online does not provide the advantages of a classroom set-up, such as access to students' body language can prove challenging. It is therefore essential that educators also adapt to the changing times and its demands. It is only fair that one does not expect this transformation to occur overnight. How is it then, does one even prepare for such a challenge? It is also important to note that this may not be restricted to educators alone. Parents can also learn a thing or two, for not all are techies. 
The key here is not to be afraid to try new things! In fact, even thinking and exploring something new is good for your mental health.

Reach out to people for help, and a search engine can be that good friend at that. 

Practice being habituated. The motto here should be to learn to develop a new skill for betterment rather than for the sake of it. During break time and holidays, ensure you spend a substantial amount of time exploring new features. This will help you avoid bloopers

Social media can be a gold mine here. Join education technology or help groups to network and learn more. Pose a question or two. There are pedagogical conferences that you can attend online.

Use technology for non-teaching purposes to get comfortable. Install useful applications on your smartphone and start using them. For e.g.: Banking applications/net banking, food aggregator apps to order food (yes, we are thinking healthy), cab aggregators or a whole range of personal applications to help you watch your health etc

Get active online. More than social media, use blogs as a medium of communication. You could write about a topic and post additional resources related to the topic for students to refer to. This could also act as notes for the pupils.

Form a network or a group with your colleagues and exchange notes. You could even reach out to educators across the globe by setting up meetings. 

To understand online assessment, you can even try giving tests and examinations online.

On-demand classes can be a good way to practice prior to teaching an entire class. This will provide the opportunity to explore various features and thereby the confidence to deal with a wider audience.

Be flexible and ready for changes. The online world is ever-evolving to meet the needs of its users. 

Once you are very comfortable with the entire online process, explore storing your information on the cloud for easy and ready access.
Samsidh is an organization that not only concentrates on its students but educators as well. We believe that the foundation has to be strong, and educators are our pillars of strength. Educators are handheld to be ready for the upcoming changes and challenges, especially during these uncertain times and are equipped with all the necessary skills. Our staff has equally shown enthusiasm in evolving as many tech-savvy warriors who are well-ahead in adapting to the changing times.
Enquire now to make your child a global 21st-century leader at samsidh.
For more details call 18002749998 or fill the form here, our education experts will reach you asap.