Samsidh SVB Modern School, Rasipuram
The ultimate essence of every form of education is to lead the children from darkness to light. SVBMS was built upon the basis that the future of a nation springs from the youth into whom a bouquet of fragrant values is inculcated. The quality and purpose of this campus are to make the children the kind of citizens the world needs so much today than ever before.
The children are educated here not only the instructions of the curriculum but also the directions of the journey of their life. Send us your children. Let us give them an opportunity to quench their thirst for knowledge and to elevate them to the pinnacle of success.
Message from the Principal
"Education is a shared commitment between dedicated teachers, motivated students and enthusiastic parents with high expectations"
Today, the role of a school is not only to pursue academic excellence but also to motivate and empower its students to be lifelong learners, critical thinkers, and productive members of an ever-changing global society. More than a decade back Shri Vidhya Bharathi Modern School pledged to transform education.
READ MORE
Mr. Chinnaiyan
Principal,
Samsidh SVB Modern School
Message from the Correspondent
We provide better chances to our students for participating in various competitive examinations such as SOF, IMO, ISO, ICO, NTSE, AAA, etc. we create a chance to take part in online proficiency tests such as FAST online assessment test, Smart Assessment, Online Quiz. We have an English Language Lab Facility – English Mentor for developing the language fluency of our students. Our students are participating in the National Literacy Mission and Clean India and Green India, National Heritage Mission and Energy Conservation Mission of India.
READ MORE
Admission
New students will be admitted in any of the classes of their eligibility. Admissions for the new academic year start from the last week of March every year.
Parents seeking admission of their ward from KG classes to I standard have to submit the Birth Certificate of the child, community certificate of the child's father with 2 passport size photos of the child.
For admissions in Class II – XII, copies of Birth Certificate, Aadhar ID card, Community certificate, with 2 copies of passport size photos and Transfer certificate to be submitted.
They should converse only in English inside the school campus.
READ MORE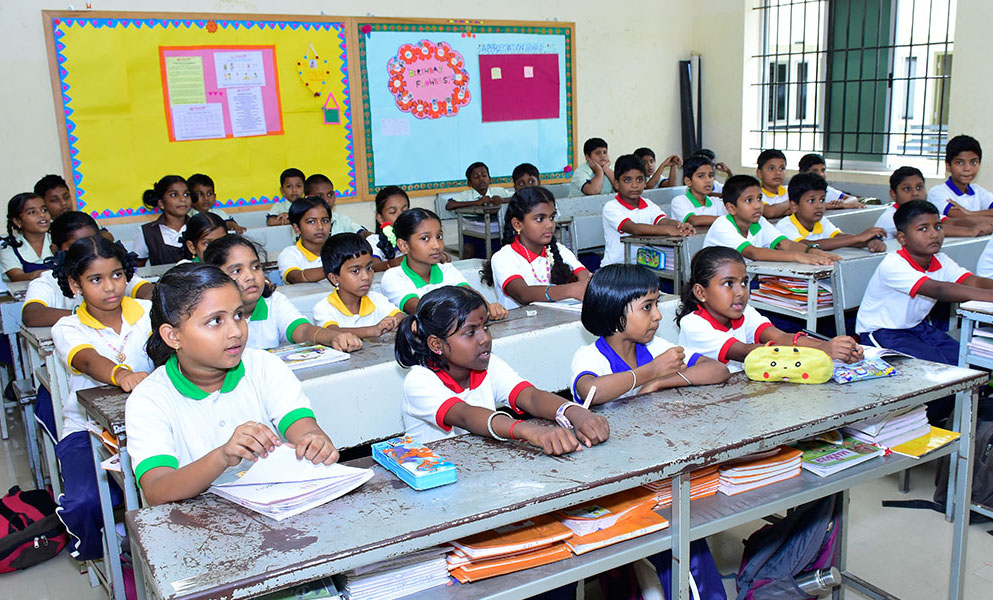 AV Hall
The fully equipped Audio-Visual Hall enables creative experts to showcase real industry work facilitating productive and Practical analysis of challenges. This Auditorium also serves as a function hall for special events consists 300 Seats, Audio-mixture along Projector.
Laboratories
Computer Lab
Math Laboratory
Language Lab
Science Lab
Physics Lab
Chemistry Lab
Biology Lab
Library
SVBMS library is a place where wisdom blossoms in the multi- specialized fields of knowledge. The kids are made to refresh their minds and also made to go through these books with interesting moral stories so that they can improve their vocabularies and thereby communicative skills.
Smart class
Classes are equipped with an Educomp Smart Class system with the view to promote a better understanding of the subject matters by the students through the basis of audio visual communication. The Digital Teaching System (DTS) is the world's first fully integrated Interactive system.
Sports
The school is interested in the physical development of each and every student irrespective of their sex. We train the students in both indoor and outdoor games. The students are encouraged to participate in various inter-school, district, and zonal level sports meet
Transport
The school provides a safe and secure transport facility from all directions of the school so that the kids can reach the school in time. It is not an exaggeration to say that the vehicles travel to nook and corner of all the places in and around Rasipuram.
SAMSIDH -SVBM Sr Sec School (CBSE)
Attur Main Road,
Near Kongu Mandabam,
Rasipuram Tk
Namakkal Dist.
Phone: 04287 222396
MMobile : 91503 83815. 91503 83814
E-Mail: shrividhyabharathims@gmail.com