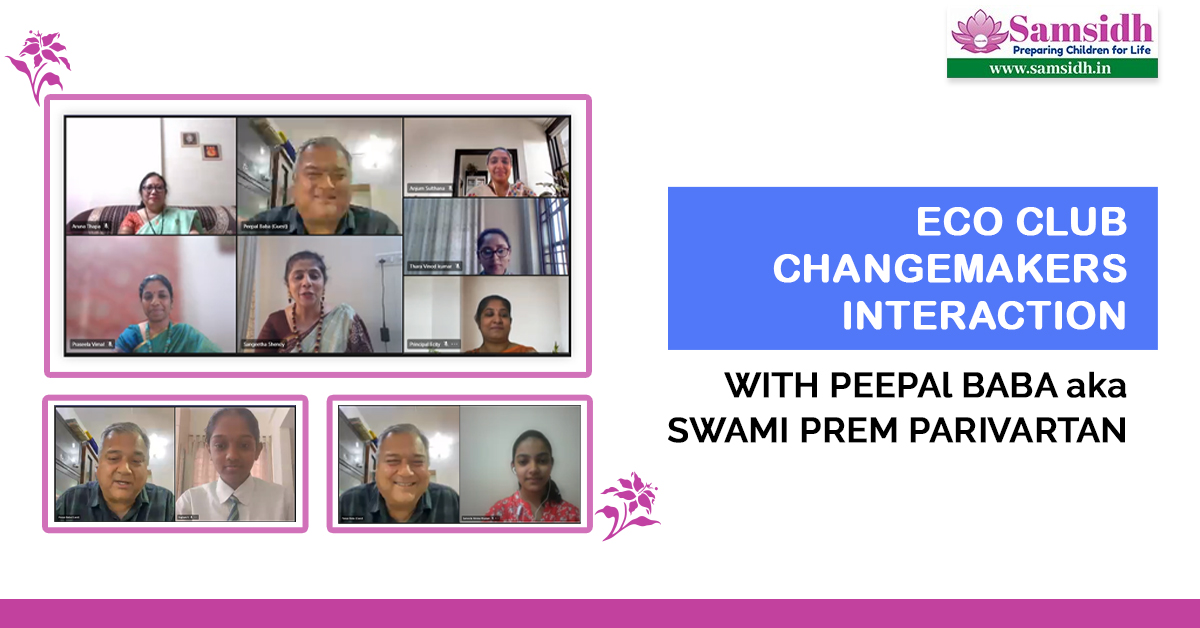 ECO CLUB CHANGEMAKERS INTERACTION WITH PEEPAL BABA aka SWAMI PREM PARIVARTAN
"The only way to achieve the impossible is to believe it is possible"
Oxygen is vital to earthly life. It is our ultimate requirement and life cannot sustain without it. The pandemic has taught us more about its importance. We're also aware of the fast degradation of oxygen levels in our universe. When the world was working on this topic to come out with various solutions, a small child from Chandigarh, Azad Jain started planting trees as his hobby. Little did he know about the outcome of his work then. He just kept doing his part as an inmate of this Universe. He planted his first tree at Pune Military Station on January 26, 1977. Inspired and motivated by his fourth-grade teacher at school, he went on a tree-planting spree since that day. He started a hobby club by the name "Give Me Trees" and gathered his friends and classmates, passersby and strangers, to plant trees and water them. Give me trees is now a fully registered charitable trust headquartered in Delhi. He chose to plant Peepal and Neem trees. He planted so many Peepal trees that when newspapers and magazines started writing about him, they started called him 'Peepal Baba'. He has devoted his life to save the fast dwindling peepal groves and forests, ancient peepal trees and is currently the world's biggest name in peepal tree planting and conservation.
We, the students and teachers Samsidh MLZS- HSR and Ecity schools felt privileged to meet such a soul and spend some quality time with him. He motivated our children to the extent that they promised to plant not only their greens but also as many trees as would be possible for them. Children also satisfied their queries by asking him various questions. Peepal Baba too enjoyed the question-answer session with the students.
1. The Reason you choose to plant only Peepal Tree?
It was by chance and, it was expensive to buy other plants from the nursery.
And one more reason was people would say NO to plant Peepal trees, due to their religious beliefs. Being adventurous, I did what people told me not to do.
2. What keeps you motivated and continue your great work?
Survival with nature is very important for the human race, and it's my happy song. So what keeps you happy motivates you.
3. How do you keep track of all the trees that you have planted? (like if they survive or not)
I maintain a journal of every sapling we have planted, even today. With technology and volunteers, we keep track of every sapling in every town, village, and city we have planted in . That has helped us to maintain the record of all the saplings we have planted.
4. Do you plant throughout the year or only during the rainy season so that the plant's survival rate will be higher?
We plant saplings all 365 days of the year, even during the pandemic and lockdown, we continue to do it with special permission. The survival rate is good if planted during monsoon, but we have volunteers to take care of the watering of every sapling planted until they are 4-5 year old
5. Your suggestions, how we as students can promote planting in our neighborhood?
Charity begins at home, have few planters in the balcony, it should be zero budget, create hariyali homes, collect seeds from parts and soak and plant it in a pot .grow your own vegetables in the space available at home. Work with Green NGOs
6. What according to you is the biggest threat to the environment in the present situation?
Insensitive, selfish Politicians, they are insensitive towards nature, are a threat to the environment.
The Prime minister of New Zealand is an environmentalist, the prince of Bhutan is an environmentalist, political will, the leadership talks the way.
Hence Bhutan is the Happiest country.
The politicians who walk the talks green, young, educated, and sensitive people should enter politics
7. How would you take care of the watering of the young saplings and protect them after planting
We have a great team in every city we work, they keep track of everything about the planted saplings
8. What do you like the most about your work?
I get to travel a lot, You meet happy people, any person who is with greenery will be happy. So traveling, all of you should travel.
10. What are the challenges that you faced during your years of being an environmentalist (planting )?
People will always will say lot of things, don't plant this tree, plant neem tree, fruits tree. We have gold medallists working with us. Even parents think you should choose well-paid jobs, what when u do what makes you happy, you can face any challenge.
11. Why did you choose to be an environmentalist, when you could choose any other career.
I did not choose to be an environmentalist. I had my teacher who told me to plant trees. When I came home, my grandmother told me to plant trees, then my Acharya also told me I should continue to plant trees.
You don't choose the trees, the trees choose you.
You are the chosen one, by nature.
I am a full-time tree planter, The people who have done their PHDs and taken degrees on Environmental science are environmentalists.
12. How has the world changed since you were a student at school?
Life was have good food, play outside, climb trees There is a lot of fear nowadays, all are given all gadgets and you people don't get the opportunity to explore. The whole world operates on fear now.
We have to walk a lot and explore. Go out and be with nature
My life is my life, but now it is others life is my life, we want to have what others have and do. We should do what makes us happy.