Samsidh SVB Modern School, Rasipuram
The ultimate essence of every form of education is to lead the children from darkness to light. SVBMS was built upon the basis that the future of a nation springs from the youth into whom a bouquet of fragrant values is inculcated. The quality and purpose of this campus are to make the children the kind of citizens the world needs so much today than ever before.
The children are educated here not only the instructions of the curriculum but also the directions of the journey of their life. Send us your children. Let us give them an opportunity to quench their thirst for knowledge and to elevate them to the pinnacle of success.
Message from the Principal
Mrs.Yamini, M.Com.,M.A.,B.Ed., graduate , an enthusiastic, caring educator who believes that all children can learn and thrive in a learning environment that is stimulating, comforting and appropriate to children's abilities. Commended for excellence in innovation, creativity, organization and proactive talents. Thirst for learning new things, hardworking and truthful to my conscious, meet and beat the target challenging, adaptability to new atmosphere. Into the education field for 17 years.  Won the "Kalvi Ratna" award during the year 2021-2022 for the best academician organized by JCI Rasipuram.
Mrs. Yamini
Principal,
Samsidh SVB Modern School
Admission
New students will be admitted in any of the classes of their eligibility. Admissions for the new academic year start from the last week of March every year.
Parents seeking admission of their ward from KG classes to I standard have to submit the Birth Certificate of the child, community certificate of the child's father with 2 passport size photos of the child.
For admissions in Class II – XII, copies of Birth Certificate, Aadhar ID card, Community certificate, with 2 copies of passport size photos and Transfer certificate to be submitted.
They should converse only in English inside the school campus.
READ MORE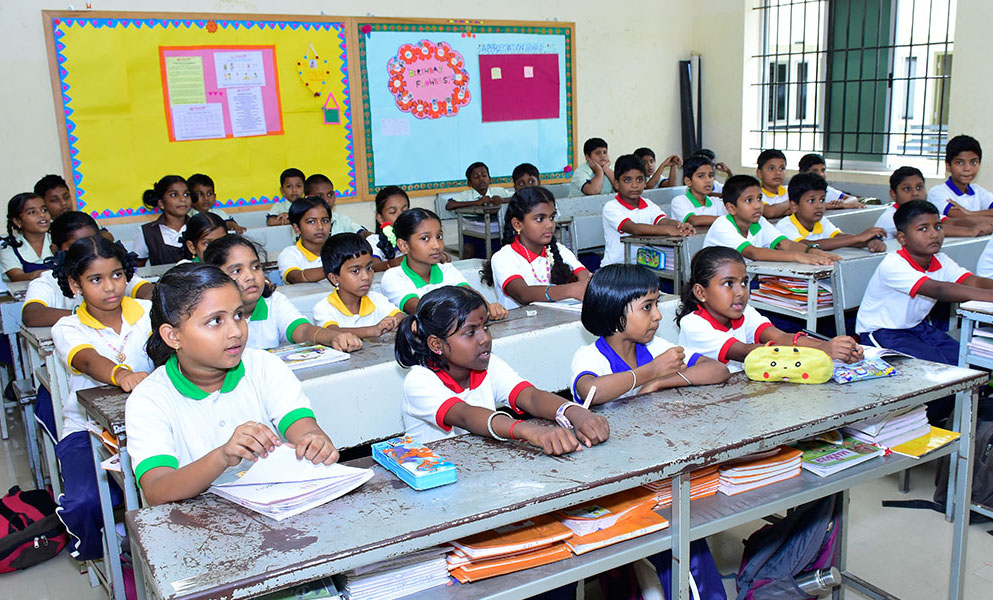 Kindergraten GraduationDance 1
Kindergraten GraduationDance 2
KINDERGARTEN GRADUATION CEREMONY
SamsidhNewsRoom2 Rasipuram
11 03 23 Academic Culmination
Women'sDay Celebration 08 03 2023
WorldWaterDayCelebrations
FieldTrip ZoologicalPark GRADE-6-7-8
FieldTrip ZoologicalPark GRADE-3-4-5
Fieldtrip Kindergarten Team
NEWS ROOM-RASIPURAM BRANCH
26 01 23 Event 3-Republic Day
26 01 23 Event 2-Republic Day
26 01 23 Event 1-Republic Day
Pongal Celebrations-12-01-2023
WhiteDayCelebrations:06/01/23
Educational trip 26-12-2022
Drawing and Essay Writing Competition
Dec 1-2022-Sport Activites
Glimpse of today's martial arts training Activity 07-12-2022
Alumni Photos / Testimonials
"I am Priyalakshmi, I completed my schooling in Samsidh SVB Modern School. I secured 93.4%(467/500) in my Grade12 examination. Now I am pursuing my bachelor degree along with two diploma courses in a prestigious institution.
Samsidh follows 3 values - compassion, humility and happiness. The Felicitation programme happens every month to felicitate those students who have followed these values in their actions. Through this the management integrates compassion into their teaching standards, emphasizes the importance of values, and builds leaders through each of their classes and lessons. We also had exercises like meditation, super brain yoga, hand clapping, bumble bee breathing, etc. to be performed before every class to warm up our self.
We had amazing teachers where my fellow students and mentors travelled like a family. Also adjustments were made as needed to meet the needs of the student."

PRIYALAKSHMI

GRADE-12 STUDENT
"I studied this school nearly a decade ago and have only great things to say about my experience. Teachers are passionate about seeing their students succeed. They are so great about sharing moments of pride they see within their child, their good behaviours and achievements."

B.MONISH

GRADE-12 STUDENT
"I'm K.Nithuvarshini from grade 11 . I'm studying at Samsidh SVBM School. I have scored 91.4% in my 10th board exam. In Samsidh., we used to conduct felicitation program each month to appreciate the students for their efforts . We practice meditation every day to relax and to increases concentration. We conduct many sports events to enhance the student's physical health. Here the teachers are amazing and each student is treated with care. With their guidance, we have developed into a confident and capable students."

N.Nituvarshini

GRADE-11 STUDENT
"My name is k.Deepana Sri from grade 11. I am the student of samsidh svbm senior secondary school.I am very glad to say that I have secured 91.2% in my 10th boards(2021).Now I am studying in 11th and I took bio-maths as my stream. I am very ecstatic to being in this school. Here I got motivation and inducement to do best in my future. Our teachers are very compassionate towards us and at the same time our school management provide much more co-curricular activities and makes us physically and mentally fit. The best thing about my school is that it makes me more comfortable with my studies and the guidance of the teachers helps me to enrich myself."

K, Deepana Sri

GRADE 11 STUDENT
AV Hall
The fully equipped Audio-Visual Hall enables creative experts to showcase real industry work facilitating productive and Practical analysis of challenges. This Auditorium also serves as a function hall for special events consists 300 Seats, Audio-mixture along Projector.
Laboratories
Computer Lab
Math Laboratory
Language Lab
Science Lab
Physics Lab
Chemistry Lab
Biology Lab
Library
SVBMS library is a place where wisdom blossoms in the multi- specialized fields of knowledge. The kids are made to refresh their minds and also made to go through these books with interesting moral stories so that they can improve their vocabularies and thereby communicative skills.
Smart class
Classes are equipped with an Educomp Smart Class system with the view to promote a better understanding of the subject matters by the students through the basis of audio visual communication. The Digital Teaching System (DTS) is the world's first fully integrated Interactive system.
Sports
The school is interested in the physical development of each and every student irrespective of their sex. We train the students in both indoor and outdoor games. The students are encouraged to participate in various inter-school, district, and zonal level sports meet
Transport
The school provides a safe and secure transport facility from all directions of the school so that the kids can reach the school in time. It is not an exaggeration to say that the vehicles travel to nook and corner of all the places in and around Rasipuram.
SAMSIDH -SVBM Sr Sec School (CBSE)
Attur Main Road,
Near Kongu Mandabam,
Rasipuram Tk
Namakkal Dist.
Phone: 04287 222396
MMobile : 91503 83815. 91503 83814
E-Mail: shrividhyabharathims@gmail.com