Samsidh in sanskrit translates to 'be prepared' started with the vision to 'prepare children for life'.
Modern times has seen a spike in modern technology and changing lifestyles. Change is the only constant and our country has seen so many revolutionary changes in the last few decades.  But sadly only in the field of education, we still follow the age old practice of recognizing someone only by the grades and scores in the exams.  No importance is given for the acquisition of skills and behaviour.  It is unfortunate that eighty percent of our graduates are not work ready and the remaining twenty percent also require some kind of orientation.
Though our graduates fare extremely well on the content with rote learning, they struggle in the conceptual understanding which is a combination of knowledge, skill and application to real life situations.  These thoughts led to the creation of Samsidh Schools which teach the students the knowledge required, the skills to apply the learnt knowledge in real life situations and the equanimous behavior required to lead a contented life. Samsidh follows the CBSE curriculum.
The first Branch of Samsidh came into being at HSR in the year 2009 with 17 children. Today, Samsidh is growing to be one of the leading schools in India with over 10000+ Students, 850+ Teachers 17+ Locations 10+ Years.
SAMSIDH IS COMMITTED TO
Nurture the innate potential of each child.

Help every child achieve academic excellence based on his/her strengths.

Develop in each child the core values of Compassion and Humility as skills.

Teach happiness as Science.
Core Values

of Samsidh

Samsidh believes in equipping children to become future leaders who are compassionate, humble and Happy. Thus, in order to be able to become leaders of the future we have tailored three core Values COMPASSION, HUMILITY and HAPPINESS into our Curriculum where students learn values of Compassion and Humility as Skills and happiness as Science.
To be the Leaders of 21st Century, children of today require the skills of Curiosity, Creativity, Initiative, Inter-disciplinary thinking, Empathy and Gratitude.  We at Samsidh are cognizant of the fact that we need to equip our children with these skills together with ethical values that will help them shine bright as 21stCentury leaders. All these are taught as a way of life in our schools and we are reassured of the fact that our children will be future leaders.
While we are progressing rapidly materialistically, we are regressing rapidly psychologically. We are unfortunately equating happiness to achievement.  There is an urgent need for us to make a paradigm shift that achievement is the result of happiness, the ability to take risks, to take the fear of failure by horns.  And this is what we teach all our children here at Samsidh.
We teach them that achievement is the result of Happiness and values and not vice versa. The children are taught to look at the failure as a stepping stone to success, to applaud everyone's achievements, to veer off the beaten track and take risk as these are the skills required for a 21st Century Leader.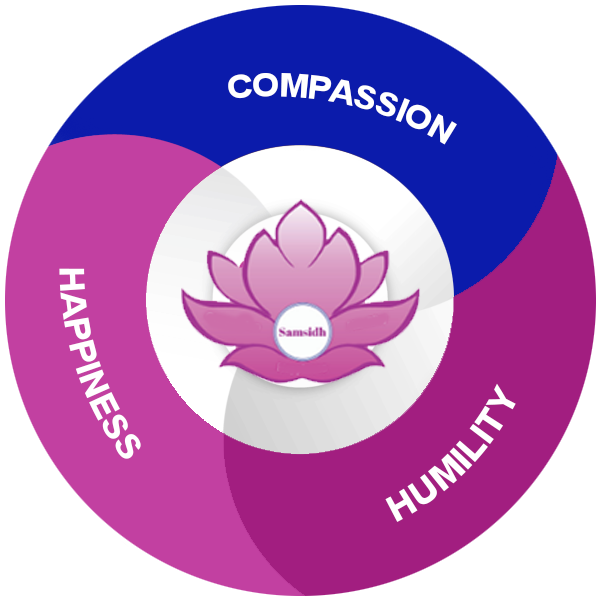 Our

Vision
 Preparing children for life.
Our 
Mission
Empowering children through holistic education to acquire knowledge, skills, and language enrichment, cultivating confidence, ethics, compassion, creativity, happiness, humility, and self-discipline, while fostering a love for learning and a sense of social responsibility.
Our

Value Anthem
When compassion becomes my passion,
Service to humanity becomes my mission,
Universal Brotherhood becomes my vision,
Turning this world Elysian.
When Happiness becomes my cause and not my result,
Then joy comes to me with contentment,
Gratitude grows in me abundant
Making this world a better place will be my commitment.
When Humility develops in my mind the flexibility
Challenges and problems will appear as an opportunity
Solutions for these I shall find with creativity,
In my outlook there will be tranquillity.
The values of compassion, Happiness and Humility
Makes me a sublime Samsidhian.
My decisions made with empathy and integrity
Will lead to a world where
Sarve Jana Sukhinobhavantu.
Registrations Open for 2024 -25