About 

Sri Lakshmi schools
Our approach to education at Samsidh Sri Lakshmi High School, Kurnool has always been 'What's right for the child' as we recognize every child is different and gifted in their own individual way. Our teaching methodology is based on the Multiple Intelligence (MI) model wherein all children learn based on their intelligence. That is, we teach them the way they can learn.
Our curriculum enables our students to acquire life skills to deal effectively with the demands and challenges of everyday life, through exposure to a variety of programs and opportunities. We believe education is not just about acquiring skills and knowledge. As important is to be guided by a set of core values that are non-negotiable which build the character of the individual At SAMSIDH we believe that being human is more important.
I am a learner , educater,  innovative in teaching, learning and leadership practitioner.
I have passion for teaching and completed three decades in teaching profession in various capacities. I believe we need to inspire our kids to follow their passion,  while letting them inspire us to do the same.
I am also the author of Environmental studies books for grades 1to 5 published by S. Chand publications  New Delhi. I am the CBSE resource person for various capacity building programs. At the  National level I have been honored by CBSE For Excellence in teaching and school leadership in the year 2022.
Mrs. D. Suseela
(M. Sc, M. Phil, B. Ed)
Principal
Samsidh Sree Lakshmi English Medium High School,
Kurnool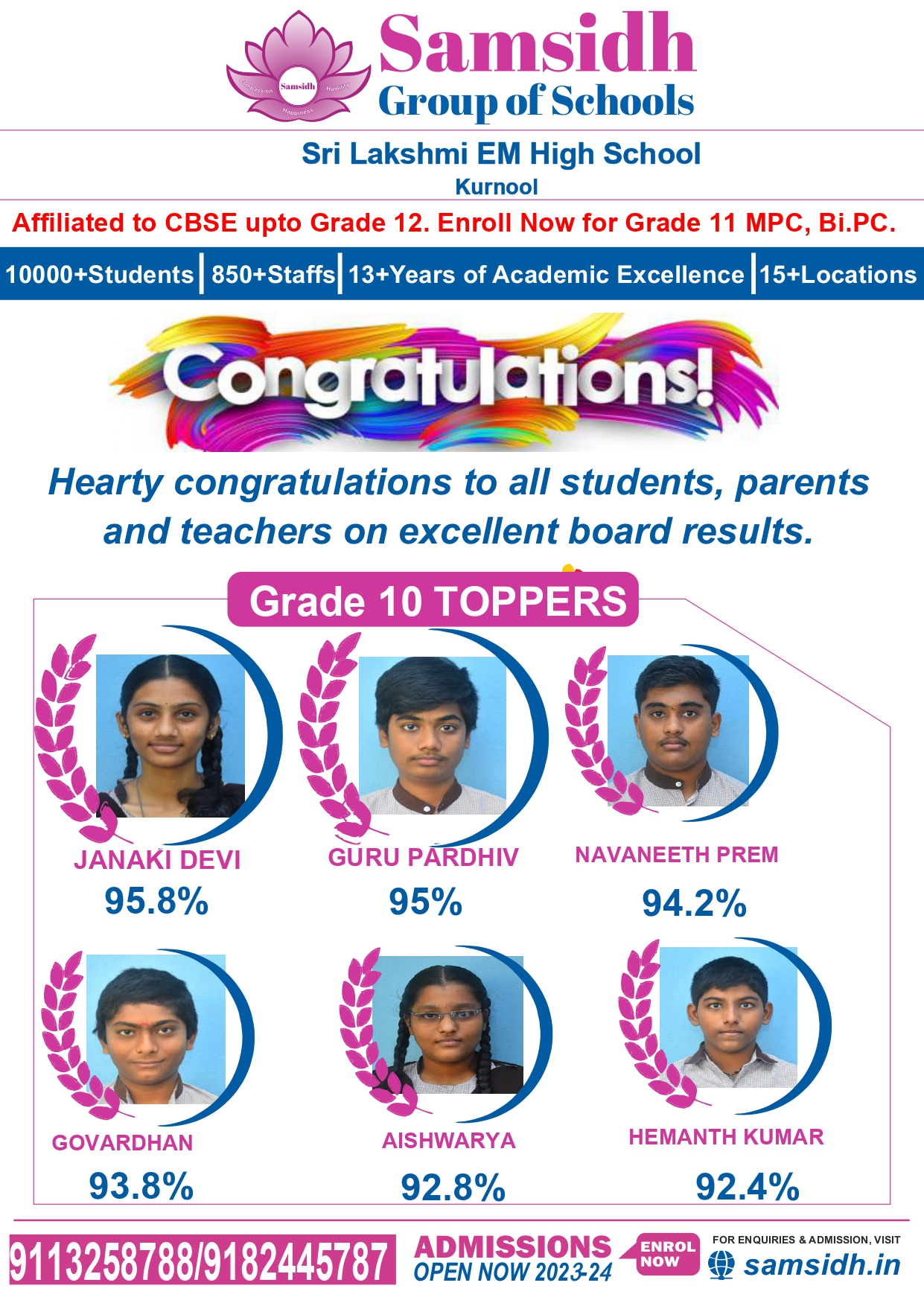 VISION
Our vision has been a constant strive to be recognized as one of the Nation's premier schools with our potential being the highest order of excellence in teaching and learning.
MISSION
Our mission has always been goal-oriented and primarily directed at
Preparing students for facing real-life situations by fostering scientific temper and values.
Enhancing students' self-esteem and igniting their curiosity and imagination.
Realizing students' potential through a multi-disciplinary curriculum and helping them emerge as wholesome personalities.
"Global Science for Global Wellbeing" as the theme voices out – Here's the National Science Day Celebration at our Samsidh School, Kurnool at a Glance. Applause for all the upcoming Research Scholars.
Congratulations
! Appreciate the encouragement and support exhibited by Parents.
"When Brilliance Work together on single motto, they create wonders."
We are Proud of Our Samsidhians of Grade 10, as they Proved themselves by their wonderful achievement in the "55th National Library Celebration," Competitions held by the District Central Library, Kurnool. Their performance was recognised by the District Collector Shri.P.Koteshwar Rao, IAS .
Congratulations
Team!
Explore the World, Visiting different places all around can help us see how people are living, what are their daily routines, etc. One will learn many new things and will have a broader view. Travelling is fun and it offer many unique experiences. No matter even if one lives in a vibrant city or have a very active social life, travelling can help us to be more satisfied.
Field trips are powerful learning experiences but it is easy for them to pass quickly.
Maximizing the learning requires the thoughtful work. done before and after the trip.
The sole purpose of the community service is to serve the betterment in case of citizenship requirements, criminal justice, further requirements of schools and colleges, and the overall benefits.
Community service, as the name suggests, is a non-paying job that is performed by a person or a group of individuals for the betterment of a community.
The main community services like Defense, medical, food corporation, health and hygiene, judiciary, education, fire fighters, etc.
The little hearts of Primary classes from our Samsidh School, Kurnool paid a visit to the Fire station and were excited to know much about the services rendered by the firefighters to the community. Assuredly the trip was informative. We thank the management for the opportunity…
We grow when we share. As an act of Compassion our students of Samsidh School, Kurnool have contributed their clothes, groceries, fruits, grains, cooking oil, and so much to say. Cheers up to their generosity and compassion to share their happiness. Their contribution was handed to the orphanage children on 22nd of February 2023. Their contribution was overwhelming. As always our students of Samsidh School, Kurnool are worth an applaud. We thank our Chairman Sir, Shri. Vasa Srinivas Rao and the Samsidh Family for enculcating the chore values like Compassion, Humility, and Happiness. Sharing is caring.
On Earth the piece of Heaven we taste, is in the love and care of a mother's handmade food. On the event of Women's Day Celebration the task of "Cook without fire" competition was held at our Samsidh School, Kurnool. Rejuvinating response received from the most skilled and expertize mother's of our students. Relishing the appetites. 'Wonderful Mother's of our Samsidh students. Thank all the participants and even the Management of Our Samsidh School, Kurnool for this cherishable opportunity.
Warm wishes of the 74th Indian Republic Day. As we celebrate the country's heritage. Samsidh School, Kurnool takes extreme delight and is proud to witness the spectacular collection of presentations by our Samsidhians as they present themselves in exhilaration. Fantabulous performances!! Happy Republic India, Jai Hind.
Knowledge becomes power when we put it into use. The source of knowledge comes from experience. Our students Maksim and Haricharan accompanied by the Social Studies Teacher as their Mentor from Samsidh School ,Kurmool have participated in the event of MUN (Model United Nations) held at Bangalore from 26th to 29th of January 2023. We appreciate and congratulate them for their participation in the event. In their words they had a very wide range of platform to meet and acquire knowledge from different brilliant people. Very thankful to the Management for the opportunity they had been given to participate in such an even
Our NCC Cadets were felicitated with Certificates and medals for their achievements in their trainings…Hearty Congratulations to all of you.
The grass is greener where you water it. A dream doesn't become reality through magic: it takes sweat, determination and hardwork. Determination becomes obsession and then it becomes all that matters. All this is true in the matter of these Samsidhians. Here are the Samsidhians, who stand as the Epitomes of Yoga, the Shape of life. We commend our Samsidh School, Kurnool branch students Manu Sree & Krishna Priya for their accomplishments in their bestowal.
Congratulations to the Samsidhians for the commitment
Academic Culmination at Samsidh School, Kurnool was a wonderful time, every presentation was lively. Proud of all the presentations. Participants were so enthusiastic about their presentations. Even the orientation for the junior nineth and junior tenth grade (student) parents was a great interactive session. Absolutely it was a great time. Mrs. Veni Sukumar madam has presided the event and it was a worthful session. Heartfelt thanks to the Samsidh Group of Schools Chairman Sir and the team.
For Admissions & Other details ,Contact Us
Sri Lakshmi EM high School
Survey No. 146/3, Munagalapadu, Tehsil-Kurnool,Dist Kurnool, Andhra Pradesh,518004
Phone: 9700626177 / 9182445787
Hours
Monday – Sunday : 7:30am – 4:30pm
Admissions Open for 2023 -24