Samsidh School

– Fatehabad, Haryana
Our approach to education at Samsidh School ,Fatehabad has always been 'What's right for the child' as we recognize every child is different and gifted in their own individual way. Our teaching methodology is based on the Multiple Intelligence (MI) model wherein all children learn based on their intelligence. That is we teach them the way they can learn.
Our curriculum enables our students to acquire life skills to deal effectively with the demands and challenges of everyday life, through exposure to a variety of programs and opportunities. We believe education is not just about acquiring skills and knowledge. As important is to be guided by a set of core values that are non-negotiable which build the character of the individual At SAMSIDH we believe that being human is more important.
Message from
Head Of Institution
'What counts is not the mere facts what we have lived. It is what difference we have made to the lives of others '
It gives immense pleasure to welcome you all to Mount Litera School. We are known for discipline and inclusive ethos where we set high standards and expectations for our students to achieve and behave their very best. Therefore, Academic excellence and Discipline are the two topmost priorities given at this Temple of learning.
READ MORE
Facilities at
Samsidh School , Fatehabad
The 21st-century world requires individuals to possess multi-disciplinary skills and capabilities. This necessitates the provision of diverse learning opportunities to students during all stages of their schooling. We provide our future leaders with a conducive atmosphere where the mind is fertile and seed is sown for a tree of knowledge to flourish. The following facilitate the Teaching-Learning process.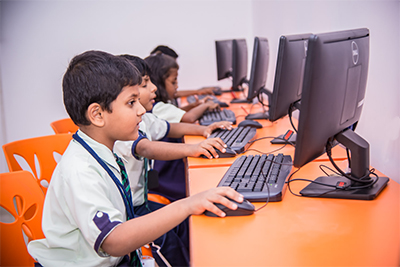 English-Speaking Program
Fully-equipped Computer Lab used by students for their practical work and well-maintained Composite Science Lab where the students observe and perform practical science studies under the teacher's safe supervision.  The school has a Math Lab and a Language Lab and the enrichment classes take place there.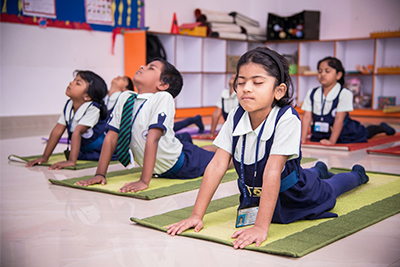 Student Wellbeing
The children are also made aware of the Mental and Physical Health benefits of pursuing Sports as a hobby at the Primary level. A well ventilatedYoga hall where our students develop both physical and mental well being.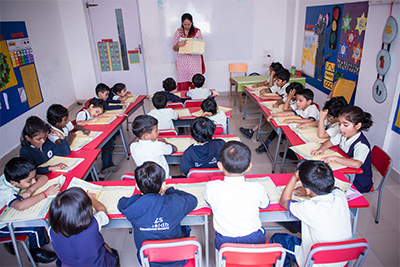 Expert Educators
We follow a student-centric curriculum and hence teachers at the school adopt a student-centric approach to learning. Teachers facilitate the learning process by helping the students to access information, by encouraging their creative ideas and honing their interpersonal skills.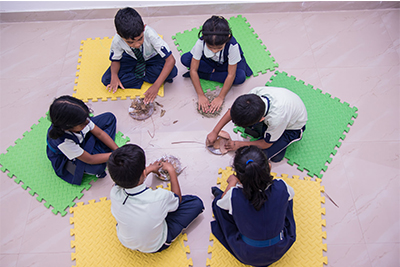 Development Clubs
 To fuel the bountiful minds of the children at the Primary level we have a motley of age appropriate Educational equipments. The Activity Room is fully established and well stocked. The performing Arts and the Visual arts are an integral part of the Teaching – Learning process.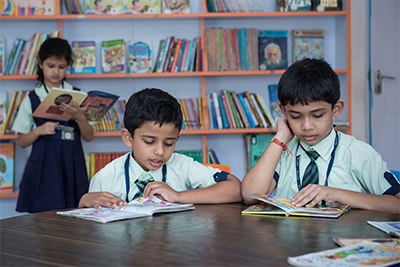 Learning Centers
Each class has a well-stocked Library. The library houses 'Reading level' appropriate books rather than 'Age Appropriate' books. Each child in the class can start reading at his/her own pace and level of understanding.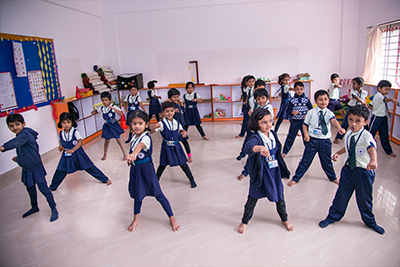 Co-Curricular
Keeping in mind the Physical Fitness and the importance that it plays in the brain development of the children, the school in association with TSG-The Sports Gurukul Academy- utilises the spacious ground in identifying the innate sport talent in a child and helps train in the field of interest. CCTV Monitoring for A Safe and Secure Premises
GPRS based Transport System


Advanced Fire Safety Measures
Independence Day (15th August 2023)
Celebrating the spirit of freedom and unity as we remember our true heroes and their sacrifices on 77th Independence day.
Tricolour was hoisted at Samsidh School, Fatehabad by Senior Principal, Mr Abhishek Sharma, remembering the sacrifices of all those who laid their lives so that we can live freely. This day kindles a sense of love and devotion among students for our country.
United we stand; Divided we fall.
India is a land of diversity living together with love and respect. To present this unity in diversity Samsidh School, Fatehabad recreated the song 'Pyar ki Ganga Bahe'. Staff and students of the school played various roles in the recreational video of the song.
KARGIL VIJAY DIWAS (JULY 27, 2023)
Let's not forget the martyrs' families, who have suffered great sorrow and loss. We promise to support and stand by them on their journey of healing and remembrance, and our hearts and prayers are with them.
Kargil Vijay Diwas is celebrated to commemorate the contribution of Indian armed forces during Kargil war. Samsidh is doing its best to add compassion towards the country. Teachers met the families of the martyrs and shared the grief of the families of the brave souls. Sr. Principal, Mr Abhishek Sharma, gave a message to all the members of Samsidh family to be compassionate towards country and respect the soldiers. We should work for making our country a better place.
SUMMER CAMP
The Summer Camp 2023-24, has been organized by SAMSIDH School, Fatehabad from 29th May – 3rd June 2023, in School Campus. It allowed them to learn new skills. This Summer Camp aimed at keeping the students engaged & provided them an even platform to explore and express their creativity, in any form. They not only made memories while having fun but they were able to face their fears, try new things, pushed their boundaries, and realized self-sufficiency. They were able to make new friends amidst a lot of laughs & learned team spirit.
The Camp is providing some hands-on experiences in the following areas: Musical Instruments, Dance: Western & Indian Classical, Yoga, Spoken
English, Sports; Football, Handball, and Basket Ball, Cooking without Fire, Arts & Craft.
The exuberant learners zealously participated & showcased their diligence. The essence of this camp was to develop a sound character of each student.
WORLD HEALTH DAY (APRIL 07, 2023)
Our bodies are our gardens – our will is our gardener
To make the students will strong Samsidh School, Fatehabad organised Swach Bharat Abhiyaan in Fatehabad on the occasion of World Health Day on April 07, 2023 (Friday). Students and teachers performed some mindful practices, cleaned the street and garden in the city. They were motivated to keep the surroundings and city clean. Principal, Dr Suman Banger and Vice Principal, Mrs Vrishi Gupta, also guided the students regarding personal and community hygiene.
PARENT ORIENTATION (MARCH 17, 2023)
To Involve the parents in the success of their wards, Parent Orientation Programme was organised to make the parents aware about the coming session of the school.
Ms Indu Sannoo, CEO of Samsidh Group of schools, made the parents aware about the ways we are going to improve the students and make them future ready. The new policies implemented in the school were also discussed with the parents.
Teej Celebrations
The Students of Samsidh School, Fatehabad celebrated Teej with great joy and fervour in the school premises. The programme was presided over by CEO – Samsidh Group of Schools Indu Sanoo. The campus was adorned with swings and Teej flavour. Parents, Teachers and kids were seen enjoying the swings.
A welcome song, Gidha and Haryanvi dance gave flavour to the occasion. Mrs & Mr Teej titles were bagged by Deepika Bishnoi & Parveen Bishnoi (Parents of Vaibhav Bishnoi Grade VII) stole the show. Stalls of mehendi, tattoo games zone and various one minute games were enjoyed by everyone .
Parent Orientation
Indu Sanoo- CEO of Samsidh group of schools conducted 'Parent Interaction' at School on July 30,2022 to make parents aware about the teaching strategies, activities and Academic plan .
She also emphasized about the contribution of Samsidh group in the field of education and the methodology followed for the enrichment of student.
JANMASHTAMI CELEBRATIONS
Janmashtami is celebrated as the birthday of Lord Krishna, one of the most powerful and famous reincarnations of Lord Vishnu. The day signifies a lot to modern India, it signifies excitement, euphoria and a joyous spirit of enthrallment.
To celebrate the extraordinary bond between children and the Almighty, Samsidh School, Fatehabad took the opportunity to both jubilate and learn with the young minds. The students dressed up as lord Krishna and Radha, complete with flutes, peacock feathers and matkas. Students of Little Millenium school, Fatehabad also visited the event.
The Principal of the school, Dr Suman Banger, blessed all the students and staff members on this auspicious day.
Samsidians Rocks at Block Level Sports Tournament
Samsidh School, Fatehabad feels proud to share that our school Basketball team stood first at Block Level and out of this team, 5 students are selected for District Basketball Team
Vishwajeet and Gursharan of Grade XI got Silver medal in Athletics.
TEACHER'S DAY CELEBRATION
A teacher often has many roles to play in a student's life. They ignite the spark to follow their passion, teach them the difference between right and wrong and if needed help them to overcome all the challenges like a true friend.
Samsidh School, celebrated Teacher's Day to honour the contribution of teachers in Student's life. Program started with lamplight followed by performances by various students. With the prayer in the heart for the better future of school and teachers, Principal and staff of the school planted a sapling. Message of respecting the mentors and elders was shared by the Principal, Dr Suman Banger.
Principal's Message
I feel immense pleasure to share that our proud student , Guramrit of Grade IX added one more feather in his cap by winning Silver Medal in Ice Skating Competition in 3rd Khelo India National Winter Games held at Gulmarg (Jammu & Kashmir)
Here are the glimpses of the proud moment:
CBSE Board Result 
CEO of Samsidh group – Ma'am Indu Sanoo felicitated students along with their parents for Exemplary Result in class X 2021-22. School Toppers & Subject Toppers were acknowledged.
Diya 96.6%, Naman 95.4%, Jatin92%, Ravinder Singh 89.4%, Leisha 86.6%, Karan Singh 82.2%, Gursharan 81.6%, Navish 76.6%, Vishvajeet 75%.
The teachers of class X were also felicitated for its valuable and commendable contribution.
Regular Teacher Parent Connect programs to build collective efforts for the child's betterment.
Samsidh Connect App : For comprehensive overview of your child's academic and holistic growth.
Student App/ Learning Platform to help students learn and revise at their own pace
Reports and Revision assessments to improve from one level to another.
We both thank you for the important role that all the teachers play to shape Joshita in the class and personal life. Please know that we recognize your positive influence and moral guidance, and we value the example you impart to our child.

Thank you!

Vineet & Lajpat Kurdiya
A great place to work! Enthusiasm, care, motivation, criticism at the perfect balance. A place which gives opportunity to learn and excel !

Pinki Mehta
Great school with a very economical fees high standard teaching staff responsible management.... Very difficult to find a school with all these combinations all together in Bangalore.

Deepak Pai
Great school and teachers! Emphasize on activity-based learning approach. Inculcating values, identifying uniqueness and making every child confident. Grateful and a happy parent.

Beenu Singh
SAMSIDH School's admission process seeks to provide every child a fair and equal opportunity to develop the ability and potential towards his/her successful completion of education. The admission process mostly begins a year in advance.
ENQUIRE NOW
Documents To Be Submitted At The Time Of Admission
3+ 3 Passport size Photo of the parent.
5 passport size photographs
Report card of the previous academic year.
Address and ID Proof of the child and the Parent. (Aadhar Card Copy)
Samsidh MLZ School,
Fatehabad
Office Timings: 9:00 a.m to 4:30 p.m
7-8 KM Stone, Sirsa Road,
Dariyapur, Fatehabad,
Haryana -125050.
Mobile : 8053780557, 8053780567
E-mail : samsidh.fatehabad@samsidh.in