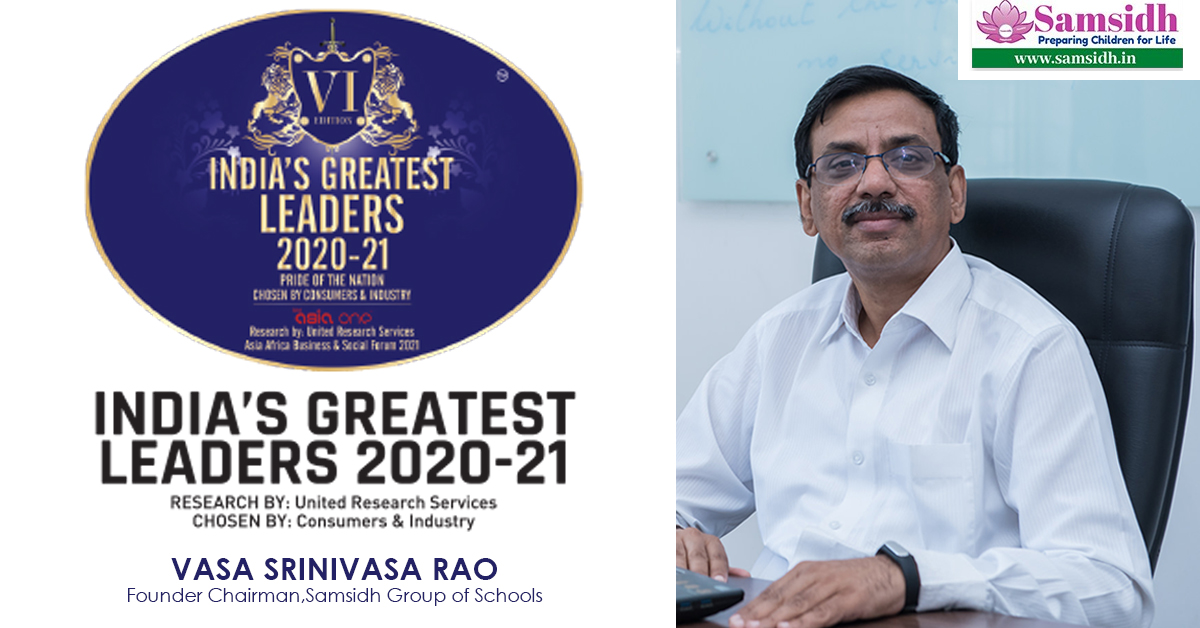 A LEADER PAR EXCELLENCE
Mr. Vasa is an engineering graduate from Osmania University with over 30 years of professional experience. The edupreneur has previously held many leadership positions in the public sector, including MNCs in the IT and transport industry. During his stint in different firms, he came in touch with several young and budding talents who were knowledgeable but lacked competency and made him realize that the current education system was more focused on exams than preparing students for life and work. Mr. Vasa realized that rote learning would not help students stand out in the 21st-century workplace. The idea of transforming the present education system propelled Mr. Vasa to embark on his journey in the education arena in 2009 with the vision of offering world-class education with a holistic perspective to the students.
INTEGRATING KNOWLEDGE, SKILLS, & VALUES
Mr. Vasa is a visionary leader. He knows what is best for the social, academic, & emotional development of his students. To ensure the all-around development of students, he has introduced an integrated learning methodology incorporating knowledge, skills, and values. At the same time, he advocates strong relationships between school and parents to promote a family-school partnership framework so that both the school and parents can work together to prepare the students for life.
A PEOPLE-CENTRIC LEADER
Mr. Vasa values and respects his team of diverse, dedicated, and passionate teachers. He not only provides his teaching staff with a happy, productive, and comfortable work environment but also encourages them to participate in regular training programs & practice sessions so that they can upgrade themselves and keep pace with the changing times.
HIS INSPIRATION
Mr. Vasa idolizes His Holiness Dalai Lama and works towards achieving a peaceful and gratified life. He also makes ceaseless efforts to nurture the compassionate side of students by building a culture wherein the qualities of compassion & humility are valued & practiced. To instill such virtues in students, he has introduced the 5Cs' Character Development Program to make students learn compassion and humility as skills & happiness as science. Mr. Vasa believes that these virtues not only help an individual to create a healthy environment but also make them creative besides developing their critical thinking skills for real-time problem-solving.
GIVING BACK TO SOCIETY
Mr. Vasa is a socially responsible leader. He has ensured that the education imparted by Samsidh Group of Schools is for the benefit of the whole community. Under his leadership, the Group regularly participates in cleanliness drives, waste reduction projects, as well as residential development activities, wherein the students visit the neighboring apartments to raise public awareness about waste aggregation.
OUTSTANDING ACHIEVEMENTS
Under his visionary leadership, the Samsidh Group of Schools has achieved numerous awards and accolades, including Karnataka Educational Award, Top 50 Organizations in Education Award by GFEL, World 100 21st Century Education Award by Future of Learning Unconference, School Excellence Award by Brainfeed, Times Education Excellence Award 2019, and many more.