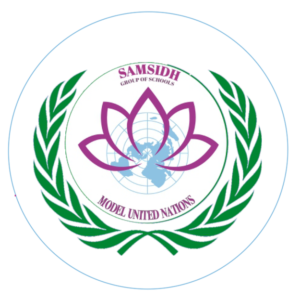 SAMSIDH MUN 2023
Samsidh Model United Nations(MUN) Conference
MUN (Model United Nations) simulations are popular practices for those who are curious to know more about the UN. Multiple students worldwide participate yearly in MUN at all educational levels – from primary to university. Being a part of MUN helps students develop leadership skills, research, public speaking, problem-solving skills, professionalism, and global acumen. Moreover, it instils the ability to come up with solutions that can be accepted by the majority, skills in negotiation, conflict resolution, and cooperation. These conferences are ideal for people to challenge themselves.
Attending MUN is an ideal way to socialize, and build connections that will prove to be convenient later on. During a MUN, students meet delegates, senior delegates, organizers, sponsors, judges, and chairs of the event. By making new contacts and meeting possible mentors they can formulate their work future as well. The concept of MUN will initially seem daunting, however, at the end of the conference, the traits inculcated will serve well in future endeavours.
We Samsidhian keep in mind the challenges ahead moving towards sustainable development goals.
Let's prepare youth for solving challenges and develop the skills of decision making.
27th, 28th, and 29th Jan 2023
Samsidh Group of Schools,
Banjara Layout,
Hormavu, Bangalore.
Registration Fee꞉
Rs.1000/‑ per delegate
Grades VII – IX, and XI are
eligible to participate
The committees being simulated at SAMSIDH MUN 2023 are꞉
1. DISEC‑Disarmament and International Security Committee
Topic ‑ Illegal Military Trade
2. UNODC‑ United Nations Office on Drugs and Crime
Topic ‑Illegal smuggling and transportation of wild drugs
3. WHO World Health Organization
Topic ‑Emergency medical care infrastructure in developing nations.
4. UNICEF‑United Nations International Children Emergency Fund
Topic‑Promoting equal access to education for children with disabilities
There will be World Press – Students from all participating Schools.
27th, 28th, and 29th
Jan 2023
Samsidh Group of Schools,
Banjara Layout,
Hormavu, Bangalore.
Registration Fee꞉
Rs.1000/‑ per delegate
Grades VII-IX, and XI are
eligible to participate