SAMSIDH MUN 2023
Samsidh Model United Nations(MUN) Conference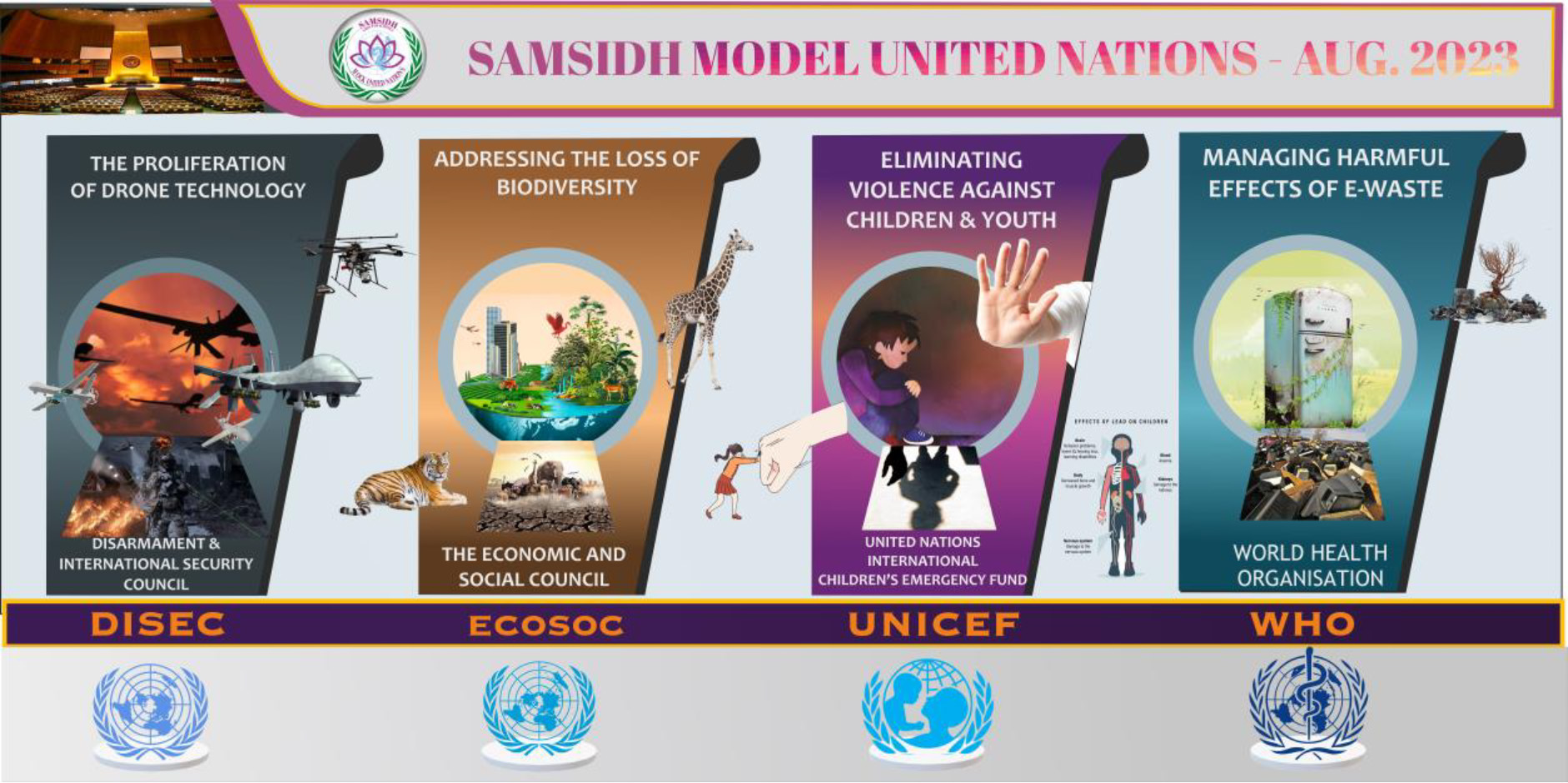 Being held on the 17 ,18 , and 19 of August 2023 at Bengaluru.
MUN (Model United Nations) simulations are popular practices for those who are curious to know more about the UN. Multiple students worldwide participate yearly in MUN at all educational levels – from primary to university. Being a part of MUN helps students develop leadership skills, research, public speaking, problem-solving skills, professionalism, and global acumen. Moreover, it instils the ability to come up with solutions that can be accepted by the majority, skills in negotiation, conflict resolution, and cooperation. These conferences are ideal for people to challenge themselves.
Attending MUN is an ideal way to socialize, and build connections that will prove to be convenient later on. During a MUN, students meet delegates, senior delegates, organizers, sponsors, judges, and chairs of the event. By making new contacts and meeting possible mentors they can formulate their work future as well. The concept of MUN will initially seem daunting, however, at the end of the conference, the traits inculcated will serve well in future endeavours.
As educationists, we are all dedicated to developing Leadership Skills in our students. In the current context, Leadership is Global in Nature. To develop Global leadership skills our students should understand the Global scenarios ‑ Global issues, cultures, International politics, and Environmental upkeep and contribute to solutions for wider knowledge and understanding.
This will help them to carve a place in the international arena as they grow up. As their spectrum of knowledge and understanding widens, they will be able to contribute and process their knowledge according to their interest and initiatives.
Samsidh Model United Nations conference will Spark and sow seeds for initiatives amongst the students. Leadership and delegates from different countries will help students to collaborate and gain a deeper perspective.
Changes in the world due to significant global events such as, the global environment reaching its tipping point leading to severe climate change impacts, the war that has not only impacted the countries directly involved but also had a global impact. Time for our younger citizens to now participate actively to secure their future.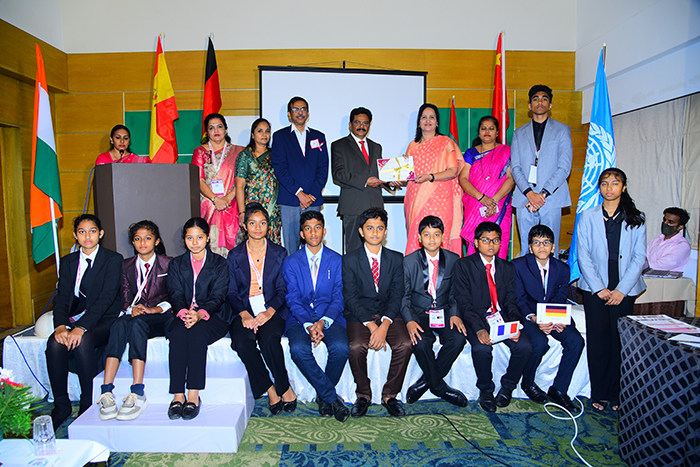 The committees being simulated at SAMSIDH MUN 2023 are꞉
DISEC꞉ Disarmament & International Security Committee
Topic: The Proliferation of Drone Technology
Committee In charge: Ms Soumitri
ECOSOC꞉ The Economic and Social Council
Topic: Addressing the loss of biodiversity throughout the world, including losses caused by commercial agriculture /logging and urbanisation
Committee In charge: Ms. Priya Ranjitha/strong>
WHO: World Health Organisation
Topic: Managing Harmful effects of e‑waste
Committee In charge: Mr Srinivas
UNICEF‑United Nations International Children Emergency Fund
Topic: Eliminating violence against children and youth
Committee In charge: Ms Seema Somshekhar
P. Sudhamshu, purusing BBA.LLB @St.Josephs College of Law, Bengaluru. Have been actively engaged in MUNing activities since late 2017.
Sudhamshu has participated in MUNs across the Bengaluru and Delhi circuits.  He also takes a keen interest in commerce events, having been on the organizing committee for many such high school events.
Sudhamshu derives his approaches from an eclectic school of thought. He is also involved in other fields like investments market, real estate, computer technology and music. If not reading about the next big happening thing, he is probably spending quality time with his dog "tuski" or practising his craft on the guitar. He hopes to provide guidance to the next generation of MUNers and law students.
Mohammed Kazim Raza
Enrolled in the distinguished Bachelor of Technology program, specializing in Computer Science and Engineering – Currently in the second academic year.Attending the esteemed RV Institute of Technology and Management.Successfully completed secondary education from the prestigious Delhi Public School Bengaluru-East (DPSE) Graduated from the renowned Sri Chaitanya Techno School
Model United Nations (MUN) Proficiencies:
Delhi Public School Bengaluru-East:
Diligently represented the Kingdom of Spain as a Delegate during the esteemed 1st MUN Conference (2017)
Skilfully embodied the spirit of the United States of America as a Delegate in the distinguished 2nd MUN Conference (2018)
International Model United Nation (IMUN) Online Conference (2020):
Articulately advocated for the interests of the Russian Federation as a Delegate
Online Model United Nations:
Demonstrated exceptional leadership and prowess as the Secretary-General
RV Institute of Technology and Management (RVITM) MUN Conference (2022):
Astutely represented the sovereignty of Ukraine with utmost finesse
Extracurricular Engagements:
An esteemed Member of the MUNSOC club, serving under the esteemed purview of the Event Management Department at RVITM.
A Glimpse of My Persona:
I am an ardent and devoted scholar, pursuing my academic endeavours with unwavering passion and enthusiasm. My profound exposure to Model United Nations conferences has allowed me to cultivate the art of eloquence, astute diplomacy, and proficient oration. As the Secretary-General of an online Model United Nations event, I exemplified exceptional leadership acumen and organizational finesse. I ardently aspire to deploy my knowledge and expertise to assist the forthcoming Model United Nations Conference, ardently furthering its noble objectives.
SAMSIDH MUN Committee Members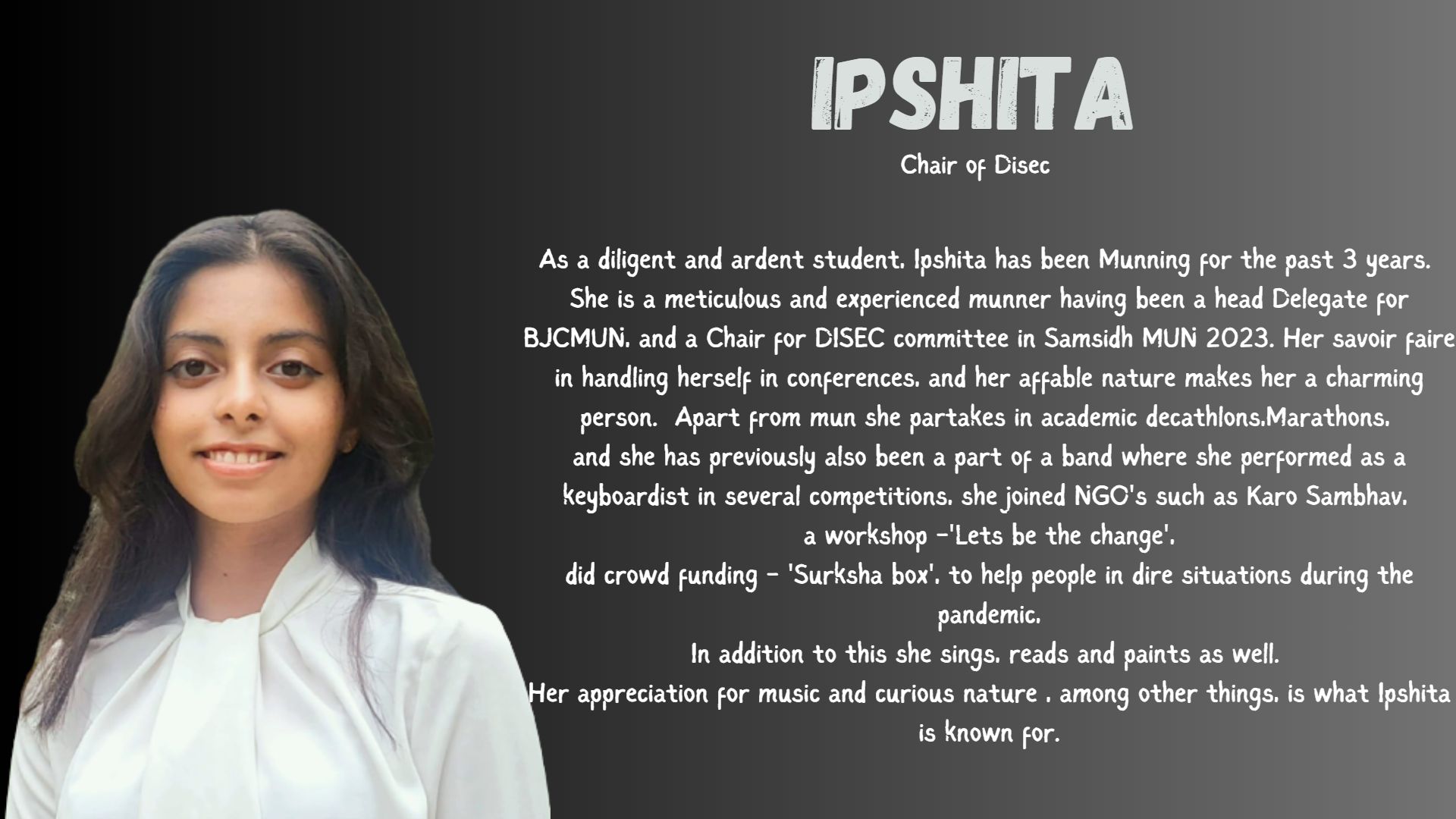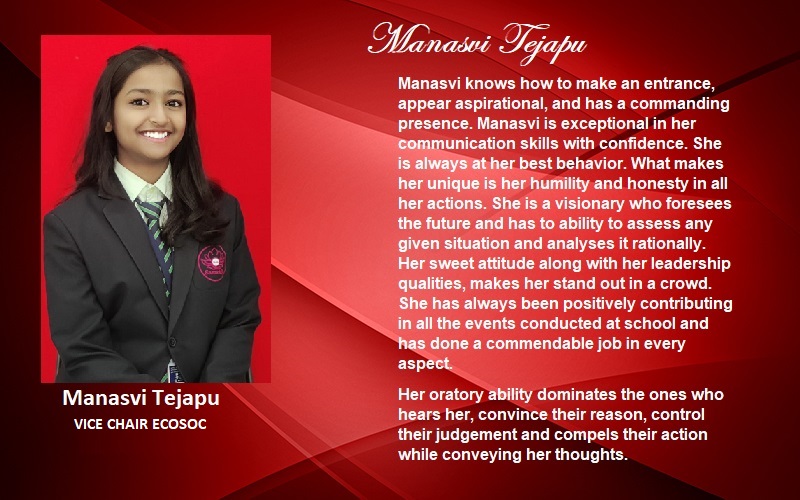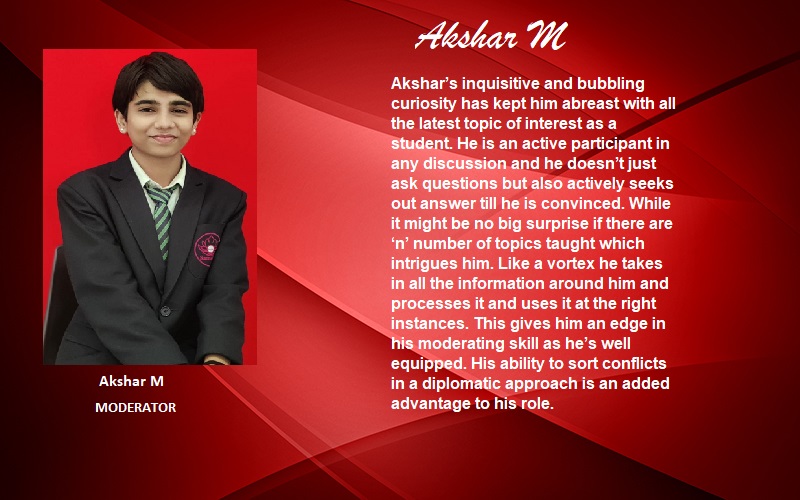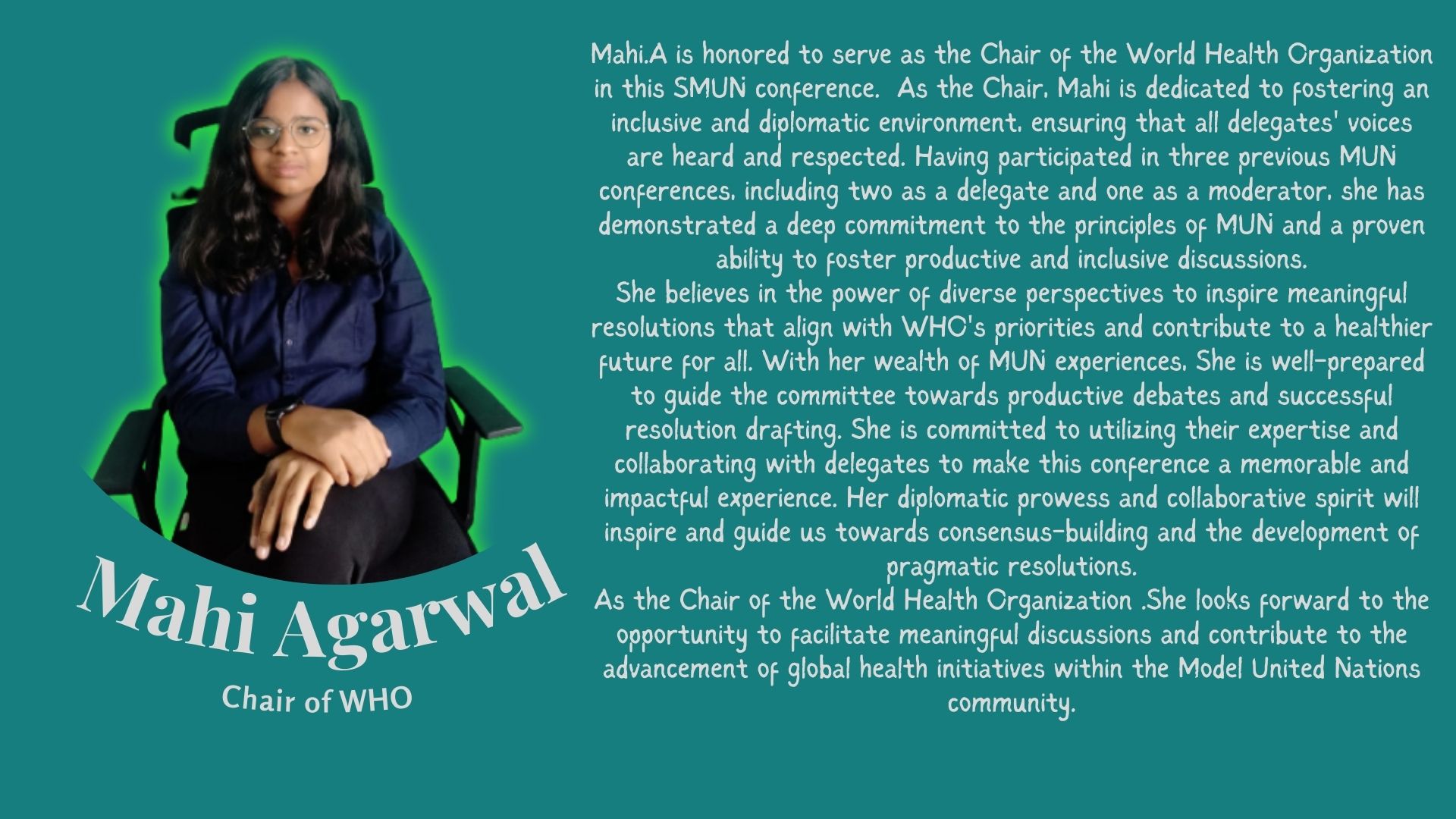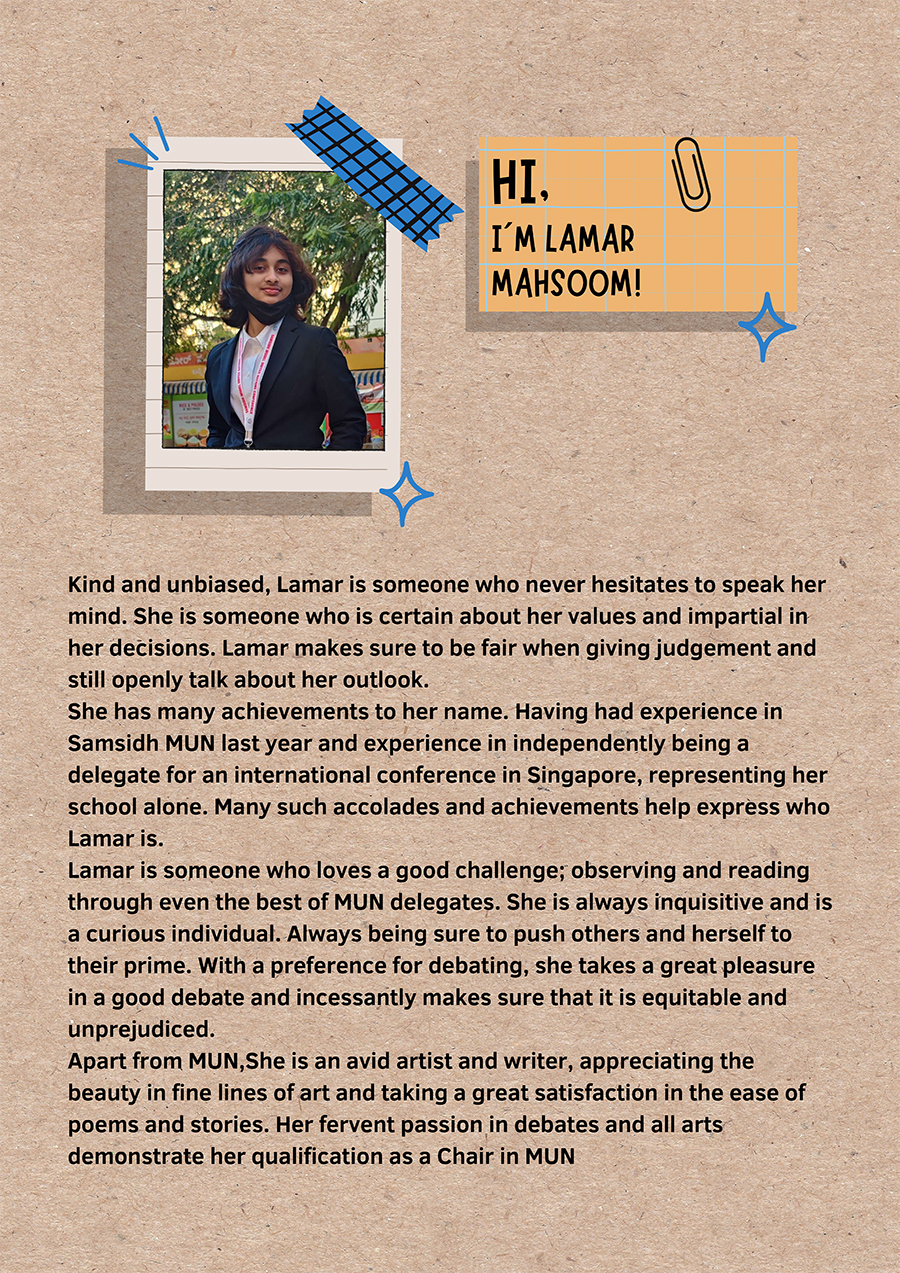 AARON MOSES
Aaron Moses is a dedicated and passionate individual with a strong focus on public speaking, adaptability, and leadership. His primary objective is to make a meaningful contribution as a delegate in the Samsidh Model United Nations by utilizing his skills in debating, critical thinking, and sports. Currently pursuing his high school Samsidh Group of Schools, Aaron has consistently displayed exceptional dedication and academic prowess. His education provides a solid foundation for his future endeavors in the field of international relations and diplomacy.
Aaron's active participation in the Samsidh Model United Nations from 2022 to 2023 demonstrates his unwavering commitment to global issues and his proficiency in simulated diplomatic negotiations. Throughout this experience, he sharpened his public speaking and negotiation skills while representing assigned countries. Collaborating effectively with fellow delegates, Aaron played an active role in drafting resolutions and finding common ground on complex international matters.
Furthermore, Aaron's involvement in the prestigious Spic Macay Convention held in Nagpur in 2023 showcases his appreciation for cultural diversity and his ability to adapt to new experiences. As a representative of Samsidh Schools, he actively engaged in panel discussions and cultural exchange activities, fostering cross-cultural understanding and appreciation. This exposure broadened his perspectives and enhanced his ability to embrace different viewpoints.
In addition to his practical experience, Aaron possesses a wide range of valuable skills. His confident public speaking abilities, developed through debating and diplomatic  negotiations, enable him to effectively articulate his thoughts. His adaptability and openness to new experiences and perspectives equip him with an innovative mindset to tackle challenges. Furthermore, his strong critical thinking and problem-solving skills allow him to analyze complex issues and propose practical solutions.
In conclusion, Aaron Moses is a well-rounded individual with a deep-seated passion for public speaking, adaptability, and leadership. Through his active involvement in the Samsidh Model United Nations, representation at the Spic Macay Convention, and participation in sports, he has honed invaluable skills and gained experiences that make him a valuable asset in diplomatic discussions and international collaborations. Aaron's unwavering commitment to intellectual growth, cultural exploration, and athletic pursuits positions him as a highly capable and enthusiastic contributor to the Samsidh Model United Nations and beyond.
Ruchelle Kanwadia
Ruchelle Kanwadia possesses a compelling combination of experiences and skills that make her an excellent candidate for the role of a moderator in Model United Nations conferences. As the former Vice Captain of Columbus House, organizer of the NHPS Football Cup, and her exceptional academic achievements, coupled with her outstanding public speaking, negotiation, and debating skills, Ruchelle exhibits the qualities necessary to effectively moderate and facilitate engaging discussions.
Having served as Vice Captain of Columbus House, Ruchelle has demonstrated remarkable leadership abilities. Her experience in coordinating team activities and mentoring the house member highlights her capacity to guide and motivate the team, ensuring a cohesive and collaborative environment . Ruchelle's innate organizational skills, honed through her involvement in organizing the NHPS Football Cup, further enhance her ability to efficiently manage the flow and logistics of Model United Nations events.
Ruchelle's consistent academic prowess reflects her strong foundation in critical thinking, research, and analytical skills, which are invaluable for understanding complex global issues. This background equips her with the ability to comprehend diverse perspectives and contribute valuable insights to the discussions, ensuring the deliberations are well-informed and thought-provoking.
One of Ruchelle's standout strengths is her exceptional public speaking skills. Her ability to articulate ideas clearly and persuasively enables her to effectively communicate and engage with delegates. As a moderator, Ruchelle's impressive public speaking skills would ensure a conducive atmosphere for open dialogue, encouraging delegates to express their viewpoints confidently.
Furthermore, Ruchelle's proficiency in negotiation and debating makes her an asset to facilitate productive discussions and bridge differences among delegates. Her diplomatic approach and ability to find common ground allow her to foster consensus and promote constructive dialogue, leading to effective solutions for the challenges at hand.
In conclusion, Ruchelle Kanwadia's experiences as Columbus House Vice Captain, her involvement in organizing the NHPS Football Cup, her outstanding academic achievements, and her exceptional public speaking, negotiation, and debating skills all contribute to her suitability as a proficient moderator for Model United Nations conferences. With her leadership abilities, organizational acumen, critical thinking skills, and ability to engage and negotiate, Ruchelle would ensure that the conferences are conducted in a collaborative and intellectually stimulating manner.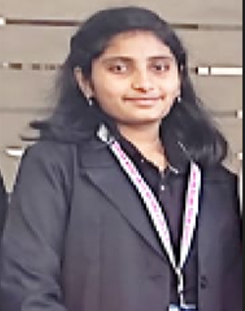 Aashritha Lenka
Aashritha Lenka is a passionate individual who has a keen sense of leadership and strives to make a meaningful contribution to society. Aashritha has taken steps to achieve this by participating in the Samsidh Model United Nations 2022 – 2023. She has been a part of the Samsidh Model United Nations and has represented the country of Colombia as a delegate by utilizing her leadership, public speaking, critical thinking and debating skills she played a significant role in the drafting resolutions and lead her team to the approval of the draft resolution. This provides her with a solid foundation for her future in diplomacy and foreign relations.
Aashritha's participation in the Model United Nations 2022 – 2023 highlights her dedication and commitment to resolving global issues and demonstrates her unprecedented adroitness to diplomatic debates. Throughout the Model United Nations, she has sharpened her unwavering skills even further honing them to their fullest potential. Furthermore, her critical thinking skills and leadership qualities make her a valuable asset to have in any group discussions.
In conclusion, Aashritha Lenka is an unprecedented individual with keen passion for diplomacy and public speaking. Through her active participation in Samsidh Model United Nations, Heritage Music Fest, Har Gar Tiranga, And the NHPS Cup football tournament, she has led her to gain invaluable skills and gained experience that makes her valuable asset. Her unmatched perspicacity and indefatigability make her a feared opponent. Her commitment to growth and cultural exploration positions her a highly capable and enthusiastic asset to the Samsidh Model United Nations and beyond.